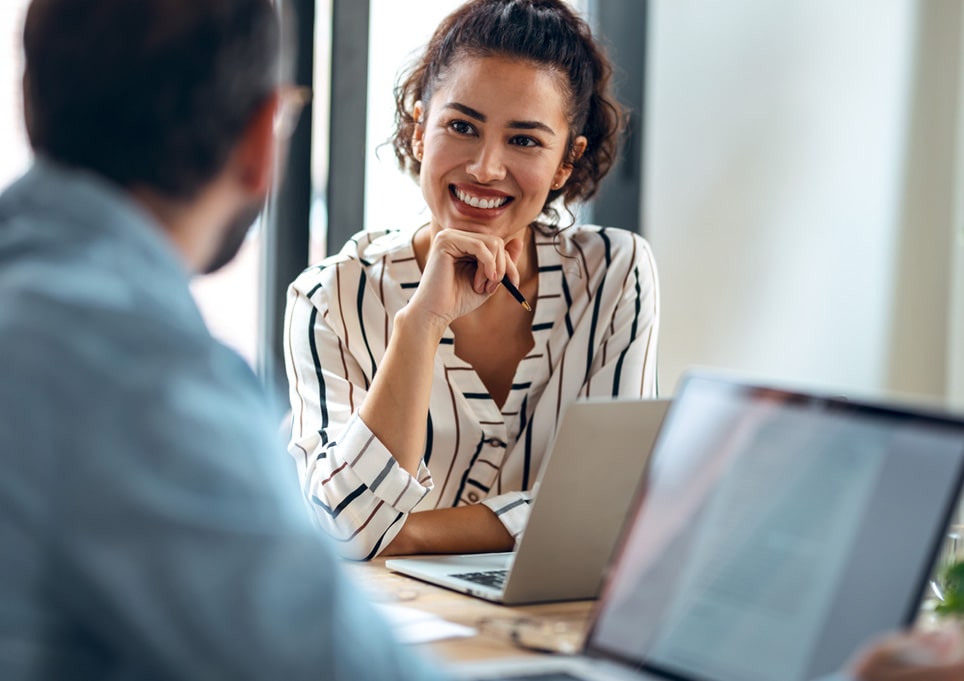 Executive coaching is an excellent opportunity to strengthen your professional skills, identify your career goals, and improve your overall well-being. Choosing a coach can be challenging, though. All executive coaches have different styles and use different approaches, so it's important to work with a coach you feel aligns with your personality.
Although choosing an executive coach is a personal decision, there are some key qualities that indicate that a coach is experienced and skilled. You can use these benchmarks to guide your decision as you search for the right coach to help you work toward your goals.
Here Are Eight Characteristics of an Effective Executive Coach
1. Self-awareness
Self-awareness is a vital quality for executive coaches and all other professionals. Your coach offers you valuable wisdom, but they need to understand how their own values and experiences influence their perspective. A coach who lacks self-awareness may be unable to entertain different points of view or look at a situation without bias.
If you're interested in executive coaching, look for a coach who clearly understands who they are and where they stand. However, they should also be able to break free from their own perspective and look at your situation from different angles.
2. Active Listening
All executive coaches need to have strong listening skills. Although they'll offer advice and guidance, their first priority should be to listen. In many cases, business leaders go to executive coaches when they're not sure exactly what they're looking for in their career. Your coach should be able to listen to your concerns and identify the key concepts to focus on.
Here are some signs that indicate that a person is actively listening:
You feel like they're fully present in the moment with you.
They make eye contact and nod to show that they're listening.
They don't rush you or interrupt you.
When you finish speaking, they reflect back what you say.
They ask follow-up questions to encourage you to elaborate.
3. Strong Communication
Communication is the foundation of a positive executive coaching experience. You should feel like you can express yourself to your coach. Likewise, you should know that they're communicating clearly and openly with you. Effective executive coaches know how to form messages that resonate with the business leaders they work with. They may not always tell you exactly what you want to hear, but they know how to communicate in a positive and motivating manner.
4. Authenticity
Authenticity is essential for executive coaches and business leaders to develop strong working relationships. When your coach embraces their authentic self, they signal to you that it's okay to do the same. Your coach should be confident enough in themselves that they can be candid with you. You'll find it much easier to establish trust with your coach when you know that they're a real, genuine person.
Judging someone's authenticity can be difficult, but there are a few key signs to look out for. Your coach should appear comfortable, relaxed, and confident. While they shouldn't be overly self-deprecating, they should be able to laugh at themselves. If a coach seems like they're putting on a persona, they might not be the right person to work with.
5. Emotional Intelligence
Business leaders tend to be logical, practical, and analytical. All of these are important qualities for success, but you should also look for emotional intelligence in your executive coach. Being able to connect and empathize with others is an incredibly valuable skill. Executive coaches need emotional intelligence so that they can build trust with business leaders. You should feel like you can confide in your coach without receiving judgment, and you should know that your coach truly cares about your well-being.
6. Personalized Approach
No two professionals have exactly the same goals or values. For executive coaches to successfully support business leaders, they have to take an individualized approach. Professionals seek out coaching when they're facing tough questions and need a unique perspective. Your coach should take the time to get to know you and your goals before working on a plan of action. By taking a personalized approach, your coach ensures that they're helping you work toward your goals in a manner that suits your needs.
7. Firsthand Experience
The best executive coaches have plenty of personal experience to bring to the table. If you're considering working with a coach, ask them about their professional experiences before they got into executive coaching. Many coaches held senior leadership positions, so they have firsthand knowledge of the challenges business leaders face.
It can be helpful to work with a coach who has personal experience in your own industry. They'll have a strong understanding of what methods will succeed or fail in your field. However, don't be afraid to branch out. Effective coaches can generalize their knowledge and apply their experiences to a wide variety of industries.
8. Commitment to Learning
Even the most experienced coaches don't know everything. A lifelong commitment to learning is an excellent quality for an executive coach. Your coach should always be striving to improve their skills and expand their knowledge. As industries change and our culture shifts, staying up-to-date on latest practices is essential. You could ask a prospective coach what they read or what courses they take to continue their learning.
Choosing the right executive coach can make all the difference in your career and professional aspirations. An effective executive coach will have a passion for what they do and a genuine interest in your goals. There are some key qualities to watch out for when looking for an executive coach, but ultimately, you should listen to your instincts. The connection between the coach and client is the foundation of the work, so you must work with someone who makes you feel comfortable and validated.
The Beverly Hills Therapy Group provides executive coaching for business leaders in the Los Angeles area. Contact us to learn more about our services or to connect with an executive coach in Los Angeles.