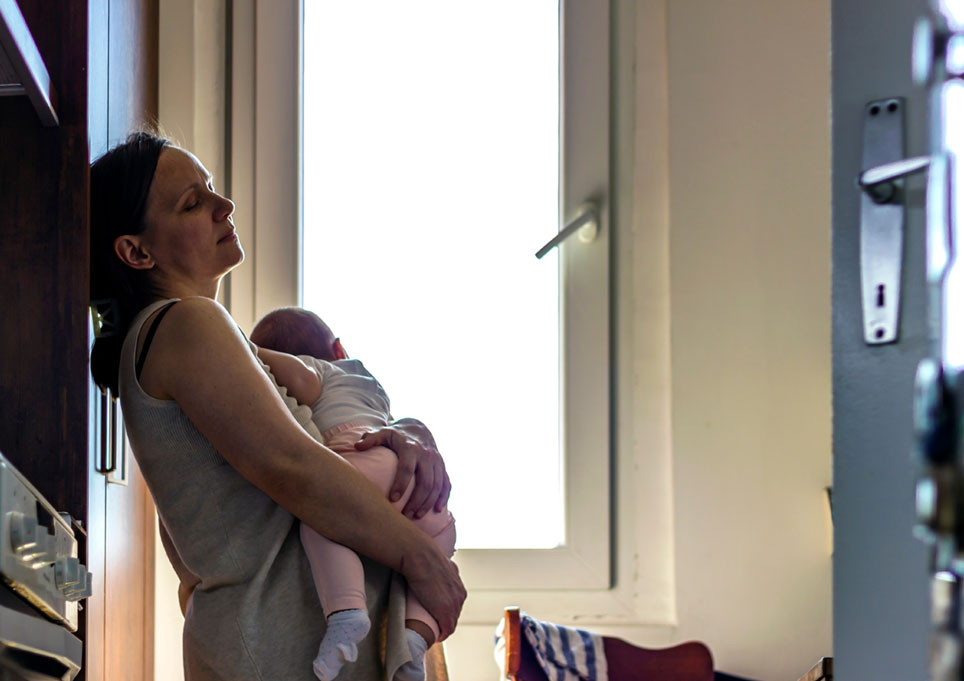 Postpartum depression is a common yet often misunderstood condition affecting mothers of all ages and backgrounds. The months after the birth of your baby are a time of intense emotion, and it's normal to fluctuate between highs and lows. If you feel like the lows are so painful that they're affecting your ability to function, you're not alone.

Mothers often experience anxiety or depression after giving birth due to the hormonal changes that happen during and after pregnancy. The sudden shift in your family structure, worries about the health of your child, and the stress of being a new parent can all contribute to postpartum depression and anxiety, too. The shame that mothers feel when they're experiencing postpartum depression also doesn't help to alleviate this burden. Not only are you dealing with anxious or depressive symptoms, but you may feel guilty that your mental health is in such a vulnerable place when you want to be enjoying your time with your child.

Postpartum depression usually sets in a few weeks after giving birth. Although it's a prevalent mental health condition, most people with postpartum depression feel incredibly alone in their struggles. If you're working through postpartum depression or anxiety, you should know that help is available. Whether you look for support from other moms, attend therapy for professional help, or try to heal on your own, you are deserving of health and happiness.
Here Are Four Tips for Overcoming Postpartum Depression and Anxiety
1. Bond with your baby.
The emotional bond formed between you and your child is beneficial for both of you. Children who have a healthy bond with their parents are more likely to be healthy and stable later in life, and parents who are closely bonded with their babies can better understand and respond to their needs. Unfortunately, postpartum depression can make it more difficult to bond with your child in their first few months of life. You might feel distant from your child or anxious about your lack of attachment to them.

Strengthening your emotional bond with your baby can help to alleviate the symptoms of your postpartum depression, and there are strategies you can employ to develop a closer bond. For example, skin-to-skin contact is critical for babies and their mothers. Whether you breastfeed or formula feed your child, you can get skin-to-skin contact during feeding, which can relax both of you. Cuddling with your baby also releases oxytocin, a hormone that makes you feel happy, loving, and sensitive.

Making regular eye contact and smiling with your baby can improve your bond as well. Babies usually start smiling around two months of age, and sharing a smile with your child is one of the simplest but most joyful moments of parenthood.
2. Care for yourself.
When you're the mom of an infant and are struggling with your mental health, taking care of yourself may be the lowest item on your list of priorities. There are hardly enough hours in the day to take care of your child, so it's easy to let your own self-care slip. This will only have a negative impact on your mental health, though, so consider taking care of yourself to be an investment in your well-being and the well-being of your baby.

One of the most important things you can do after having a baby is maintain a healthy, balanced diet. Healthy living isn't a cure for mental health problems, so you shouldn't expect your postpartum depression or anxiety to disappear after a diet change. Giving your body the right nutrients will help you feel more stable and energized, though. Research suggests that omega-3 fatty acids are especially beneficial for postpartum depression. You can find omega-3s in oily fish, nuts and seeds, and plant oils, or you could supplement them with your doctor's recommendation.

Rest and sleep are essential when working through postpartum depression, too. Lack of sleep can affect your mood, your anxiety levels, and your ability to handle stress. While virtually all new parents are deprived of sleep, mothers with postpartum depression may have an especially hard time falling asleep and staying asleep. You might not be able to sleep through the night for several months after your baby is born, but you should do everything in your power to take naps when possible. If a trusted friend or family member offers to watch your baby for a couple hours so you can get some sleep, don't turn down the offer.
3. Seek out social support.
Depression and anxiety can both lead to social isolation, but feeling lonely will make your symptoms worse. We all benefit from having a support network around us, but new parents may have a particularly intense need for social support.

If you have close friends or family members nearby, allow your bond to remain strong as you take on the responsibility of parenthood. Sometimes, talking through your emotions or experiences with someone you trust can make you feel much better. You don't even have to bring up your concerns about postpartum depression or anxiety if you're not comfortable sharing on that level. You could just spend time in the presence of your loved ones to feel less alone.

Connecting with other moms can be valuable, too. You could check out a local mom group or talk to people through Facebook or other social media platforms. There are so many parents who can relate to your experiences with postpartum mental health issues, and you can receive a lot of support and advice from people who have made it through these struggles.
4. Talk to a therapist.
Postpartum depression is a serious mental health concern. Although you may be able to ease your symptoms on your own, therapy or other professional help is the best way to recover. Some moms use a combination of therapy and medication to manage their symptoms, but you, your doctor, and your psychologist will create a treatment plan that's right for you.

Therapy is highly effective at treating depression for many people. The causes of postpartum depression aren't usually clear, but you and your counselor can explore your thoughts and feelings to try to get to the root of the issue. Therapy provides an opportunity for you to learn how to cope with unhealthy beliefs and emotions as well.

One common form of therapy for postpartum depression is psychodynamic therapy, or Depth Psychology, which explores the relationship between your patterns and history with the way you think, feel, and act. Couples or marriage counseling can be helpful as you recover, too, because it creates an opportunity for your partner to learn how to support you.

Postpartum depression and anxiety can be devastating, but reaching out for support can make a dramatic difference in your experience. The licensed therapists at The Beverly Hills Therapy Group have the training and resources needed to help you make it through this difficult time. If you're worried about your mental health after having a baby, you can reach out to us to connect with a therapist in Beverly Hills.